Home
> About Us >
Company Introduction
Sino Lifting Equipment Co., Ltd.,
was established in 1955, designated supplier of former Ministry of Machinery Industry, and the first Lifting Equipment manufacturer in North China. After 50 years of continuously efforts,
have built up a system of lifting machine design, mechanical design of water conservancy, military equipment design, automation and control design. With a completed advanced production equipment of mechanical processing, heat treatment, welding, testing and packaging, shipping as well as large-scale production capacity. The main products are electric hoist, single, double beam cranes, tower / gantry cranes, lifts and other eight series of more than 200 varieties, widely used in energy, metallurgy, transportation, heavy machinery nuclear / hydraulic power, aerospace, aviation and military and other industries. Market network covering more than 50 large and medium cities and regions in the whole country. Products are exported to Asia, South America more than 20 countries.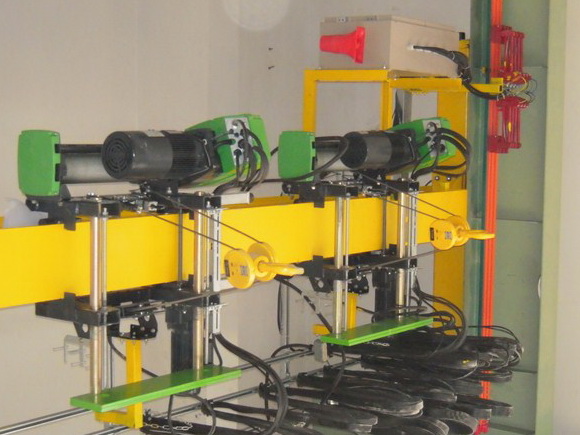 Our lifting equipment has been issued production license by our country, We are certified of ISO9001: 2000 quality management system, We are a member of Heavy Machinery Industry Association, China Metallurgical Equipment Manufacturing System member.
The company employs more than 1,400 people, fixed assets over hundreds of millions. Occupies 30 thousand square meters, factory building covers an area of 103,000 square meters. 200 sets ofl Equipment, including sophisticated equipment such as: computer-controlled machining center, nitriding furnaces, automatic gear integrated detector, computer-controlled automatic cutting, automatic welding of large turning work tools, etc., Perfect technical guarantee system and strict production control, and standardized processes and advanced detection methods ensures the products high quality, high-output.
Crane with large tonnage and span takes a major percent of product scope,which entered into high technique and performance. The QDP-Frequency explosion-proof crane was named national key new products, 5T-100T overhead bridge cranes have national patent; 5T-50T overhead crane was named top level products; Electric single beam crane and wire rope electric hoist are the only top level products in Henan Province." We have won the brand-name products in China lifting equipment industry, high-tech enterprise in Henan Province, quality management, quality business, quality and trust business, the contract and trustworthy enterprises, brand-name products,provincial famous trademark, Chinas top ten brands crane, the first batch of national-level credit enterprises, China National Machinery and 500 other honorary titles.
Join with us, you will get one-stop solutions for all your lifting equipments…