Grab/Hook Dual Purpose Overhead Crane 5/5~16/16t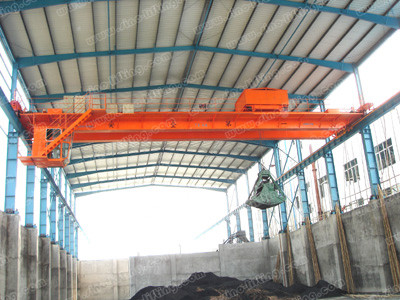 This model Dual-purpose Overhead Crane is widely applied in capturing and lifting bulk cargo, granular material, especially in brewing industry. Working temperature -20℃~40℃ . It is not recommended to be used in lifting deposite metal, toxic, flammable and explosive materials.
The working duty of Grad/Hook Dual-purpose Overhead Crane is A7, the lifting weight includes grab deadweight. Rain cover for outside working.
Overhead Grab Crane standard construture: cab control, driver chamber can be open type or close type. Wound rotor motor is adopted, speed controlled by resistance.
Optional configuration:
1) Grab opening direction can be horizontal or vertical;
2) The max. dimension of top should be H+h when with rain cover;
3) 5% should be increased on max. wheel pressure and the total weight of crane, when working outside;
4) Electrical conduction mode of trolley can be angle steel or safety conductor line;
5) Standard handcart or handcart with weighter be optional;
6) Cane grab, garbage grad, timber grab and other types grab can be choosen upon your requirements.
Sketch: