Double-Beam Electromagnetism Gantry Crane 20t-35m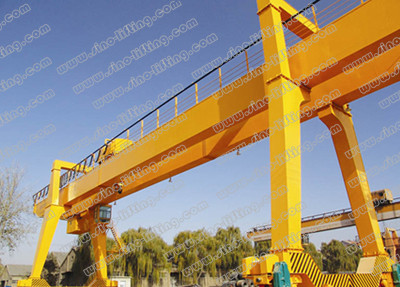 Electromagnetic gantry Crane is a special crane with detachable electromagnetic disk, special used in metallurgy and mechanism factory load and unload metallic materials such as steel plate,scrap iron,and so on.
It is an heavy duty crane with working grade A6, cabin control, lifting weight including electromagnetic disk dead weight
This crane mainly consists of bridge beams, crane travelling mechanism, electric trolley, electric system and magnetic disk system. cabin control, Rain cover for outside woking
Double beam electromagnetic gantry Crane has similar structure with gantry crane with hook, except a DC electromagnetic disk hanging on the hook of the former crane, which can transfer metallic materials. Usually AC power transferred into DC power by the power generator set on girder or SCR DC box in operation room, and then through the special flexible cable reel installed on trolley, the DC power supply was sent to electromagnetic disk.
Sketch: